A family of networkable, DIN rail mounting, programmable controllers with digital and analog I/O.
drive.web smarty UACs are offered in a variety of configurations . . .
Smart, compact packaging
0.82" x 3.62" x 4.73"
[21 x 92 x 120 mm (WxHxD)]
NEW smarty7
The new smarty7, dw250 series controllers are a full featured range of high performance, industrial, programmable controllers for process and machine control that provide cost effective solutions for systems of any size or complexity.
The Basics
designed & assembled in the USA
smart distributed control for the IIoT
peer-to-peer connections over Ethernet
unlimited i/o expansion
Internet accessible
100% compatibility with all other drive.web devices
savvy design, monitoring, and diagnostic tools
Features
performs complex motion control functions & logic in milliseconds
encoder pulses up to 1 MHz with 64 bit count
shares encoder pulses in real-time between units over Ethernet
60 plug-in terminals
cost effective in systems of any size or complexity
Floating point or integer math
Clock time & date with SNTP server interface
savvy tools with trending, smart phone interface, drag & drop connections
100baseTX Ethernet with drive.web peer-to-peer networking
USB-C port – provides system-wide access to all devices – drives, controllers, touch screens, etc.
Battery holder for real time clock
Applications
basic switching to complex logic
simple arithmetic to complex math
winders, open/closed loop with smart tension control
registration, indexing, electronic line shaft over Ethernet
advanced motion and position control
smart pumping and air flow functions
sun tracking for solar energy optimization
material handling, batch, and counting functions
Standard savvyPanel Library
For iPad, iPhone, and touchscreen PC operator stations with arrows, meters, start and stop pushbuttons.
Standards Compliance in Process:
UL, cUL, CE, UKCA, FCC 47 CFR § 15, and ICES-003
smarty dw240 series
The world's most advanced Universal Automation Controller
Advanced Motion Control

Smart Process Control

Distributed, deterministic processing over Ethernet

Homogeneous integration for drives, HMIs, remote I/O

savvy

system design tools

Right for the IIoT future

Easy, intuitive, affordable, expandable

For systems of any size or complexity


---
The smarty dw240 series comes fully loaded:
Install a dw240 on the customer interface terminal rail to save on wiring and installation costs!
Floating point math for accurate and complex calculations.
Count and Frequency with 64-bit count for precision positioning; to 1MHz input, 500kHz output.
High speed event inputs for position markers and registration.
Processing and networking speeds that are up to 10 times faster than the dw210, especially with larger configurations.
Increased storage; four times more capacity.
Up to six frequency inputs with multiple modes.
Up to two current inputs; 0 to 20mA, 4-20mA.
Up to two encoder inputs.
Up to seven timing outputs with multiple modes to 500kHz; frequency, stepper, and digital.
Real-time clock with optional battery back up. Low-power mode allows real time clock to run without power from coin cell battery, USB power, or 24-hour internal storage.
Sensor bus for large, smarty-dedicated networks to be announced.
XIO, Extended I/O port for up to 10 fast-updating modules with up to 16 I/O on each. Modules for high current, high voltage, precision analog, load cells and more are planned.
Every dw240 comes fully equipped with dw build options -04 -05 -06 -10 -25 -26 -29 -39 as standard! (smarty2 and above)
---
Every smarty dw240 model is available with either screw or spring clamp terminations.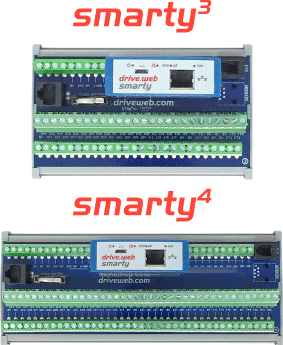 Choose the option that best suits your application!
---


Smart Distributed Control Concept
No system bandwidth degradation with systems of any size
One completely homogeneous environment for drives, controls, operator stations, i/o – everything!
Complete data consistencythroughout a system
The ability to store the entire system configuration in the controllers for easy field total access
The ability to manage total system program thread and hierarchy
Consistent multi-level password protection
Key Features
Ethernet peer-to-peer networking
Gateway options for ModbusTCP/IP, EIP, CANopen and others
Internet access
Graphical Signal Flow Diagram system documentation
Additional i/o
Easy interface to most operator stations, PLCs, SCADA, etc.
Event driven emails from devices
Precision
16-bit integer basic arithmetic
32-bit floating point calculator functions
64-bit encoder pulse counting
Standard savvyPanel Library
For iPad, iPhone, and touchscreen PC operator stations with arrows, meters, start and stop pushbuttons.
Standard Function Block Library
Adders, Subtracters, Multipliers, Dividers, Clamps, Switches, Logic
Event driven email messages
Full featured PI controllers
Optional Function Block Libraries
Advanced Process Control & PLC
Winder Control
Advanced Math
Encoder Position & Indexing
Standards