savvyPanel
provides unprecedented flexibility
in instrumentation, control and monitoring.
Runs native on a savvyPanel station high resolution, touch screen display.
Also runs on any full-featured touchscreen PC and iOS devices (iPad, iPhone, iPod touch, etc).
Extensive library of objects such as pushbuttons, switches, meters, indicators, lamps, buzzers, etc.
Extensive library of graphical image "tiles" to build smart machine and process graphics.
Machine graphic "tiles" can be linked to detail control screens.
Full savvyPanel configuration is stored in drive.web devices for instant WiFi "roaming" access.
Supports multiple screens with multiple pages.
Provides hierarchal access to system groups, individual systems and multiple operator levels.
Powerful multi-level password protection.
Example – Extrusion Coating Line
Master System Control Station

Extruder Screen

Temperature Control Screen

Easily build your graphics and controls and link them to any location in your drives or process control system.

Touch a graphic tile such as the "EXTRUDER" to drill down into the detail screen.

Touch an arrow link such as the "TEMP CONTROL" tile to drill down into the temperature control system.

Touch the "MELT TEMP" tile in any screen to set the master temperature setpoint.
savvyPanel Touch
savvyPanel touch
Model dw230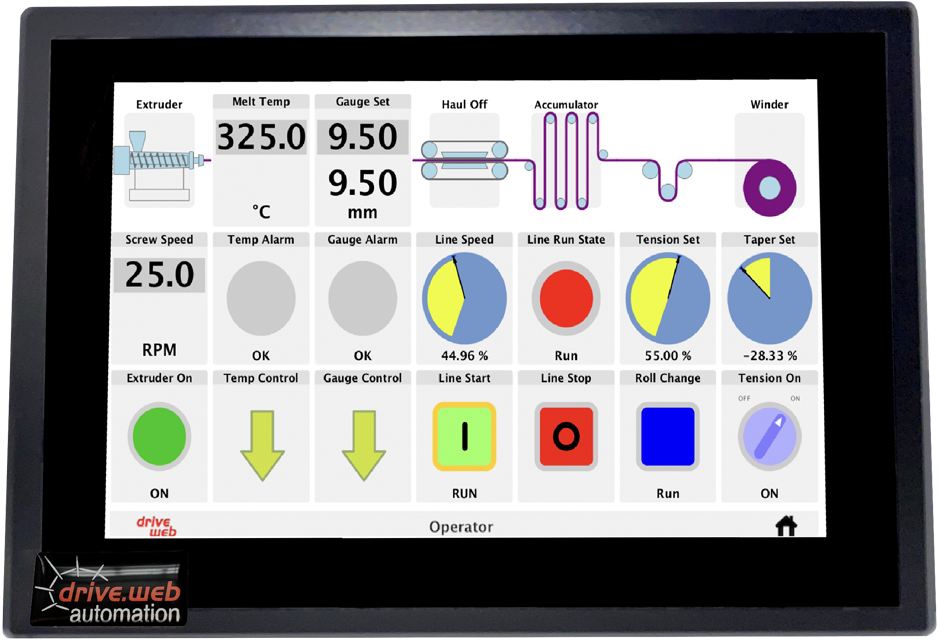 enclosure for
savvyPanel touch
Model dwOPTION-54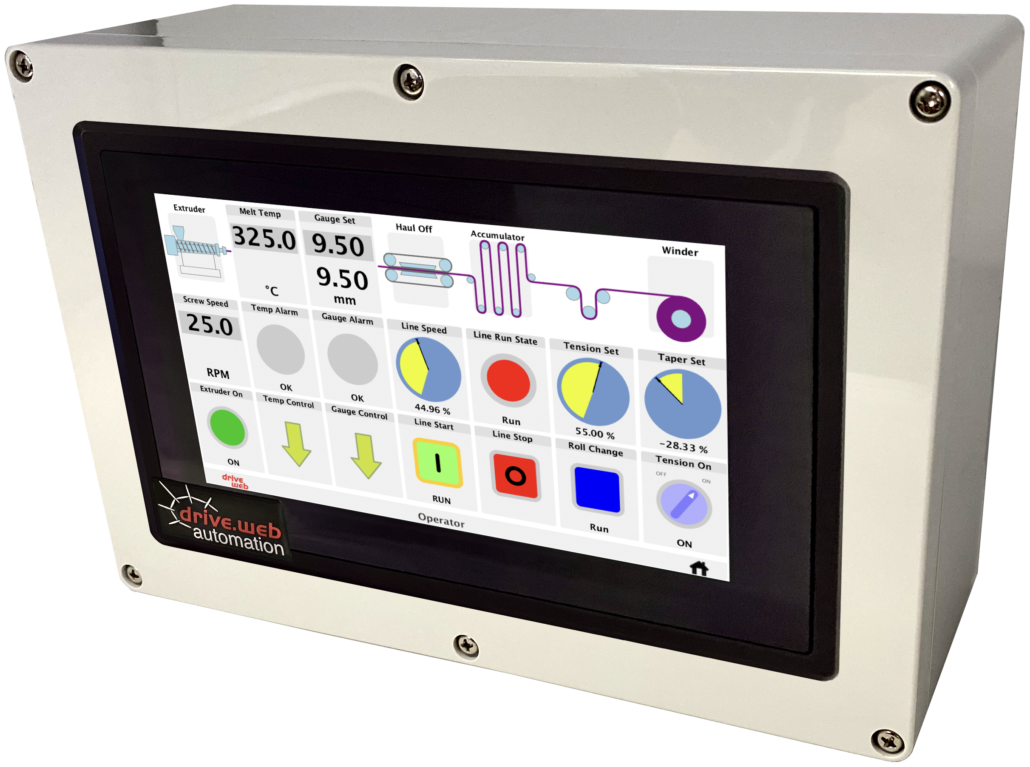 savvyPanel touch
Dimensions:
5.9" x 4.33" x 1.1" (150x110x28 mm)
8.15" x 5.47" x 1.2" (207x139x31 mm)
9.92" x 8.07" x 1.3" (252x205x34 mm)
enclosure
Dimensions:
8.4" x 5.8" x 2.2" (213x142x56 mm)
9.5" x 6.3" x 3.6" (241x160x92 mm)
11.8" x 9.05" x 3.4" (300x230x86 mm)
5, 7, and 9.7"
Color Touch Screens
Plug & Play, drive.web native
Splashproof front
High resolution (1024 x 600p)
Competitively priced
Easy setup
Key features
IP65, NEMA 4 splashproof from the front
IP20 from the back
One Ethernet port 10/100baseTX
Power supply 6-30VDC, 5W
Working Temperature: -20°C to 70°C

savvy Programming
No separate programming required. The savvyPanel touch display configuration resides in the drive.web drives or automation controllers. Everything is set up and accessed from the drive.web network using the intuitive savvy tools.
Ethernet Networking Options
Use with a LAN switch in systems of any size.
Connect directly to any single drive.web drive or automation controller.
Enclosure Details
Impact resistant
flame retardant
Polycarbonate
NEMA 4 (IP65)
light gray
savvyPanel for iOS & Android
Go mobile...get secure machine access anywhere!
Download savvyPanel free from the Apple App Store and get immediate access to a real, live drive system in Stevensville, Maryland, USA.
Click here for more information.

Link opens driveweb.com in a new tab.
Touch the "Roll Change" button to reset the length to zero.
Turn on all the section "On/Off" switches.
Touch the "Line Start" button - see the line run its auto cycle.
Touch the "Set Speed" indicator to change the line speed.

Touch the parameter name to get info.
Touch the square display symbol to close the setter.