Motion Control Systems
drive.web … configures, connects & controls …
everything, from anywhere!
drive.web
motion control solutions provide all the functions you need to provide coordinated, multi-axis automation.
For multi-axis motion control of all types of drives - AC drives, DC drives, servos, steppers, hydraulic, linear actuator, etc., in a wide variety of general industrial position control applications including:
Pick & place machines
Packaging machines
Painting Robots
Cut to length
Automated assembly processes
Cam Profile
A key requirement for numerous machine controls.
Key Features:
Easy graphical profile error
Optional .csv file import
Easy .csv file export
Easy system set up
Easy integration with multiple axes
Up to 100 "knots" or points for complex profiles
16 bit signed input and output resolution for accurate cam forms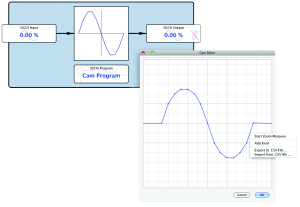 motion control

–

Stepper Drive Controllers
These stepper drive controller options are available for most versions of the smarty (LINK TO SMARTY)
Both options include:
2 channels of pulse & direction
2 fast event inputs for count reset
64 bit pulse counts
Automatic datum reset
Easy set up
Selectable count persistence with "clear on power up"