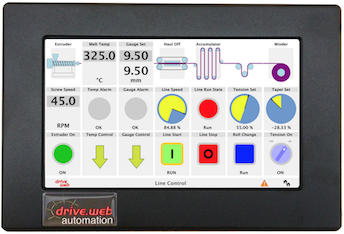 dw230 savvyPanel® Touch 7" operator interface is ready to run out of the box, but the installer must refer to the installation manual included with the device to ensure correct installation of the hardware. This guide describes the setup and use of its various software features.
This guide assumes a working knowledge of drive.web® technology. Please refer to the other guides in the savvy® user manual: Getting Started, Design and Overview, Access Control.
dw230 Network Settings
Set device IP address, router address, subnet mask, and SNTP network time server address using savvy in the same way as any other smarty® or speedy® drive.web device. Please see that section in the Getting Started Guide for more information.
It is possible to set dw230's real time clock using savvy via the dw230 Contextual Menu, but SNTP network time servers provide the best solution, where possible.
Discover dw230 in savvy
Discover the touch panel in savvy via Ethernet, in the same way as any other drive.web device. Please see the Directory menu overview in the Design and Overview guide.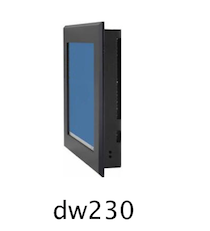 When no name has been applied, the model number is indicated.
Hover mouse over the icon to view IP address, serial number, and group in the window Status Bar.
Click the dw230 icon in savvy for the Setup dialog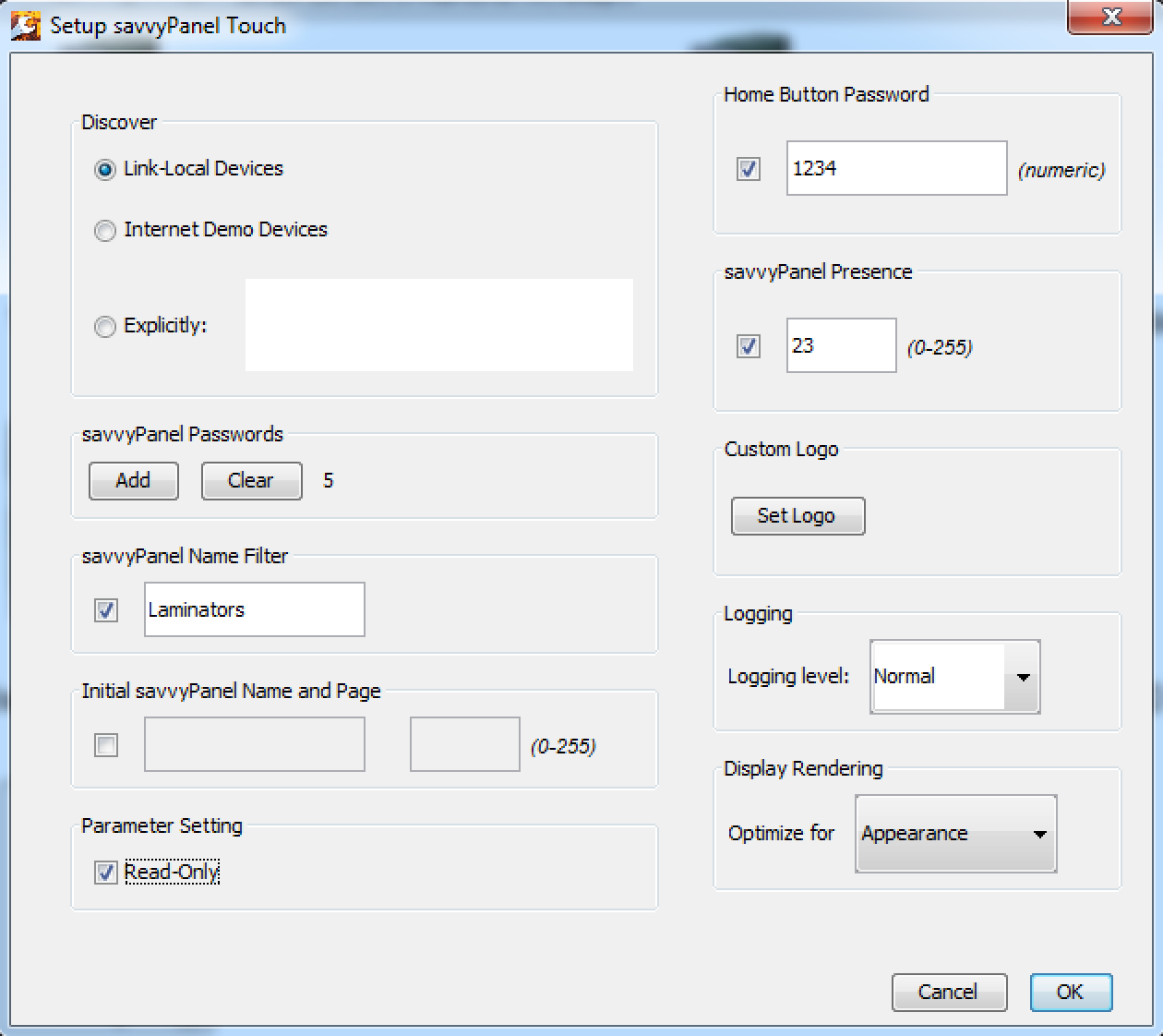 Discover
Link-Local Devices

Discover devices that are on the same local area network as dw230. Those devices must also be on the same subnetwork.

See the Ethernet section of the Getting Started with savvy guide for more details.

Internet Demo Devices

Select to view a system of several drive.web devices that is maintained on public IP addresses at our factory in Maryland.

Click DC Drive or AC Drives page link to view, control, and run actual, live drives and motors at our factory.

Explicitly

Enter one or many device IP address(es) or DNS name(s), separated by spaces, or on separate lines.

Use Copy Discovery Set..., under the Directory menu, to copy the IP addresses of every device in the directory, and paste it here.

Use device name(s) if DNS service is available and the device has a DNS entry.

drive.web device(s) with public IP addresses may be discovered anywhere on the internet by this method. For example, "smarty2.bardac.com" is the DNS name of a smarty dw210 at our factory in Stevensville, Maryland.
savvyPanel Passwords
When a drive.web device has a savvyPanel Password set, it can NOT be viewed in dw230 until that password is also added here. Click Add.

Passwords are case-sensitive! The password must match exactly.

See the Access Control help page for more information.
savvyPanel Name Filter
When checked, only the named system can be viewed.

To assign a drive.web device to a particular savvyPanel System, use the Device Contextual Menu, Set savvyPanel System.
Parameter Setting - Read Only
When checked, no setters are available and pushbuttons and switches do not actuate.
Home Button Password
When assigned, access to the home page from other pages is restricted. Access to the systems page from a home page is also restricted.

See the Access Control help page for more information.

dw230 only supports numeric home passwords.
Set Initial System Name and Page
Defines the specific page that is viewed when dw230 first boots up. This feature can be used in conjunction with the home password to restrict access to the home page or other systems.

See the Access Control help page for more information.
savvyPanel Presence
When checked, dw230's presence and the page number that it is currently viewing can be detected by the drive.web device(s).

Use savvyPanel Presence Monitor function block in the device(s) to detect this presence.

Use unique tag numbers to identify individual savvyPanel devices.
Logging
Three levels of detail are available. View the log entries via the contextual menu. See below.
dw230 Contextual Menu
Contextual menu items are identical to those in any other drive.web device, except for Set Timezone....
See Device Contextual Menu descriptions in the savvy Design and Usage Guide for complete details.

Set Timezone... appropriately to display the local time in savvyPanel Date and Time graphic tiles.
Important Note - Lock savvyPanel Touch with a device password to prevent other savvy users from altering the settings.
Touch the drive.web icon in dw230's window title bar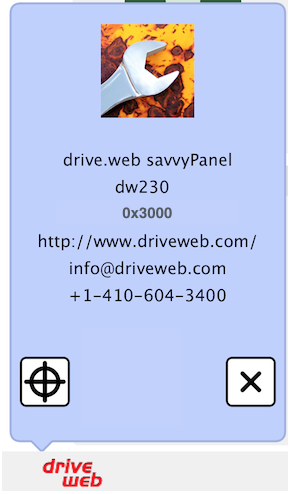 View description, model number, firmware version, contact information.
Touch the target button to adjust the touch calibration.
Proceed with caution! If the touch calibration is badly adjusted, it may be necessary to plug in a USB pointing device. Please see the installation manual for details.

Carefully touch the crosshair cursor that appears. Hold the position for approximately one second. The best calibration may be achieved with an appropriate stylus. Another cursor will appear until this is repeated four times.
Touch the X button to close this dialog window.
savvy, smarty, speedy, savvyPanel and drive.web are trademarks of Bardac Corporation, registered in the U.S. and other countries.